Situated at the 45th Parallel, close to the Atlantic Coast of southern France, Bordeaux is a region that has long set the standard for the production of fine wine. While perhaps best known for its signature Bordeaux Blend – long-lived red wines with complex aromas and bold dark fruit flavours -, this region is home to a dazzling mosaic of micro-terroirs, producing a wide range of styles. From the smooth and elegant Merlot-dominant wines of Saint- Émilion to the powerful and structured Cabernet-heavy stunners of Pauillac, the sweet golden nectars of Sauternes and the bright and fresh dry whites of Entre-deux-Mers, the treasured landscape of Bordeaux unlocks a world of fine wines, bottles to please even the choosiest of palates.
The History of Bordeaux Wines
The history of Bordeaux wines dates back almost 2,000 years to the Roman occupation of Gaul. By the 10th century wine had become a popular domestic staple in France. In the 12th century, following the marriage of Henry Plantagenet and Aliénor d'Aquitaine, the French region of Aquitaine (containing Bordeaux) became English territory, and the exportation of Bordeaux wines (then called "claret" by the English) to England grew immensely. Bordeaux wines eventually came to grace the royal tables of the succession of English kings that followed and the Bordeaux vine growing region expanded in size to accommodate the new foreign demand. The link between Bordeaux wine and English aristocracy was established, a link that has survived and evolved through the centuries to this day. In 1453, France reclaimed the province of Aquitaine and took back the control of wine production in the area.
In the beginning, the Graves was the main wine growing region of Bordeaux and the Médoc, now producing some of the most prestigious wines in the world, was barren swampland. It was the Dutch traders in the 17th century who first had the idea of draining the Médocain marshland and planting vines in this area. By the early 18th century, wine production in Bordeaux was so widespread, that the region was divided into specific areas to distinguish their wines from one another. It was around this time that the first great châteaux of Bordeaux came to life, through the involvement of pioneers like Nicolas-Alexandre, Marquis de Ségur, who at one point owned Château Latour, Château Lafite-Rothschild, Château Mouton, Château Calon Ségur, Château d'Armailhac and Château Pontet-Canet. Nicknamed "the prince of vines" by Louis XV, the Marquis is largely credited for establishing the signature styles of what are to this day Bordeaux's most prestigious wine estates. Roughly at the same time, a Bordeaux wine merchant by the name of Pierre de Rauzan began purchasing land in the Médoc and founding the estate that would one day become Pichon Longueville, ancestor to the Château Pichon Comtesse and Château Pichon-Baron we now know.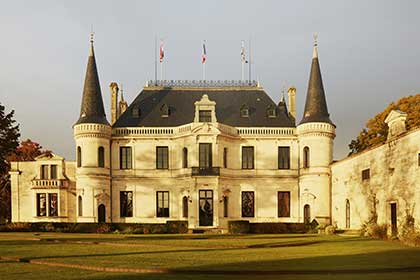 One of the most important dates in the history of Bordeaux wines is 1855, when in preparation for the Exposition Universelle de Paris Emperor Napoléon III requested an official classification of the best Bordeaux wines. The union of Bordeaux wine brokers developed a classification system for Bordeaux wines based on quality and market prices of the time. In the 1855 Classification of Médoc and Graves, 60 top Bordeaux red wines were ranked from first to fifth growths (crus) with four classified first growths chosen in total: Château Lafite, Château Latour, Château Margaux and Château Haut-Brion. Only one great change has ever been made to this selection – the promotion of Château Mouton Rothschild from second growth to first growth status in 1973. The white wines chosen were limited to 26 dessert wines from Sauternes and Barsac and classified only into two categories: first growth and second growth. Château d'Yquem famously ranked so highly among the first growth group that it was given its own category of Premier Cru Supérieur (Superior First Growth), a category it still occupies alone.
The illustrious first half of the 19th century in Bordeaux was followed by decades of great hardship, with the arrival of the phylloxera epidemic, which spread rapidly through the region between 1875 and 1892, wiping out almost all of Bordeaux's prized vineyards. In order to recover the vines, they had to be grafted onto pest-resistant American rootstock. Some grape varieties were easier to graft than others, and these grape varieties (Cabernet Sauvignon, Merlot, Cabernet Franc, Semillon, Sauvignon Blanc and Muscadelle) would eventually come to represent the Bordeaux wine region. The phylloxera epidemic was followed by two World Wars and a Great Depression, which took a great toll on the wine industry. Nevertheless, several regulations were set in order to protect Bordeaux winemakers.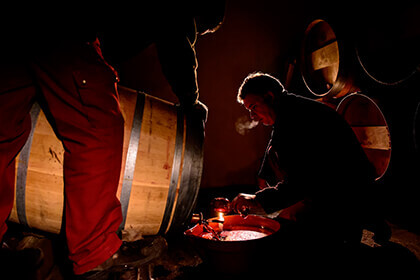 In 1935, the Institut National de l'Origine et de la Qualité (INAO) was created to work together with top wine producers to define the official boundaries of certain appellations as well as the rules to meet in order for wines to qualify for them. This measure was taken to prevent wine growing regions elsewhere in France from capitalising on Bordeaux's international success by erroneously labelling their own wines as being from Bordeaux.
In 1981, inheritance taxes were significantly increased in France, leading several old Bordeaux families to sell their châteaux to insurance companies, banks and other national and international corporate players. While this trend did change the landscape of the Bordeaux wine industry significantly, it allowed for an influx of new investments into estates that had come to be neglected during the difficult first half of the 20th century. Such investments, coupled with ever-evolving winemaking technology, helped usher in a brand new chapter in the history of Bordeaux wines.
It was around the same time that the first independent wine critics surfaced, gradually becoming more and more influential during the 1970's and 1980's. American wine critic Robert Parker famously declared Bordeaux 1982 to be the best vintage of the past few decades, leading to a great demand for Bordeaux wines in the United States. International critics also helped shift the focus onto fruit quality, which led Bordeaux châteaux to become more selective during harvest. This, in turn, led many estate to create Second Labels so as not to waste grapes that were deemed good quality but not good enough to go into their Grand Vin (First Wine).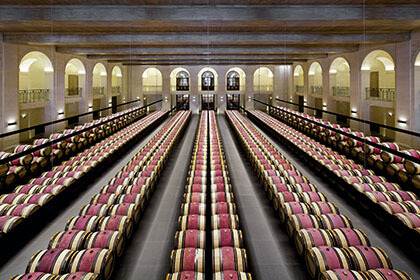 Around the end of the 1970's the en primeur (wine futures) system also began to gain serious ground. Previously set in place by dominant Bordeaux wine merchants in order to set their own price in return for up-front cash paid to the châteaux before bottling, the system had evolved. This system allowed wine merchants to secure large stocks and sell them to customers while the wines were still in the barrel, to be delivered roughly two years later, once bottled. With the up-front profit, the estates could invest into new winemaking facilities and improve vineyard management. To this day, the closed circle of Bordeaux wine merchants who enjoy the exclusive privilege of buying and selling Bordeaux wines (collectively called the "Place de Bordeaux") rely on this system to sell Bordeaux's Grand Cru classified wines.
Today, Bordeaux continues to evolve, as one of the leading wine regions of the world. Technological advances have led to great improvements in wine quality as well as lessening negative environmental impact. More and more estates are now converting to organic viticulture, with a select few even taking the next step into biodynamic wine production.
The Appellations and Terroirs of the Bordeaux Wine Region
The official viticultural region of Bordeaux today extends 80 miles inland from the Atlantic Coast and is home to over 10,000 wine producers with an average production of around 600 million litres per year. This output includes inexpensive table wines (classified under the region's generic "Bordeaux" appellation) as well as some of the world's most expensive references (the Grands Crus or Classified Growths).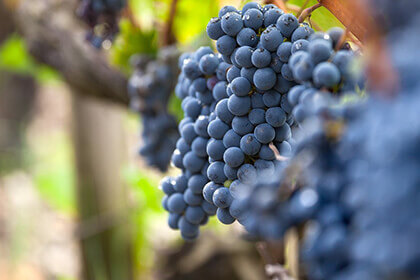 The historical success of Bordeaux winemaking can largely be attributed to the region's geology and geography. Bordeaux is set on a foundation of limestone and clay soils, with a significant mineral content to nourish the vines. The Gironde estuary, along with its tributaries (the Garonne River and Dordogne River) offer natural irrigation. The system of rivers feeding into the Gironde estuary also helped put Bordeaux wines on the map historically, by providing a bustling port with easy access to the ocean and, thus, foreign markets. At a latitude of 45°N, the average summer daytime temperature of Bordeaux rarely rises above 95 °F, while winter temperatures tend to be mild with rare occurrences of frost. The Garonne and Dordogne Rivers divide the Bordeaux region into its sub-regions, each of which is home to several appellations. Altogether, there are 57 appellations in Bordeaux, which is also the greatest producer of appellation wines in France.
The Right Bank (or Libournais) region is situated on the right bank of the Dordogne River, in the northern part of Bordeaux, around the city of Libourne. Here the terroir is characterised by red clay soils, in which the Merlot grape thrives. The Right Bank is home to appellations that include Blaye, Cotes de Bourg, Fronsac, Canon-Fronsac and the two most prestigious – Pomerol and Saint-Émilion. In Saint- Émilion, soil types range from clay to gravel and limestone. Saint- Émilion has its own classification system, originating from 1955, which unlike the 1855 classification is revised on a regular basis. Premier Grand Crus of Saint- Émilion, like Château Ausone and Château Cheval Blanc, are widely considered equal in quality to the First Growths of the Left Bank. The Pomerol appellation is home to several tiny estates and characterised by very dense blue clay soils that make for marvellous Merlot. Although lacking a classification system, Pomerol is the birthplace of several world-renown wines, including the legendary Petrus.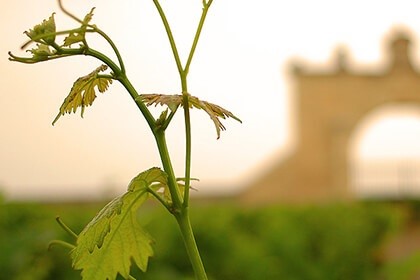 With room for exceptions, of course, Right Bank Bordeaux wines tend to contain a blend of Merlot, Cabernet Franc and Cabernet Sauvignon (in order of importance). However, several Pomerol estates, for example, produce single-varietal Merlot wines. Because of the high relative percentage of Merlot in these wines, Right Bank Bordeaux tend to be slightly smoother, softer and less tannic than their Left Bank counterparts, though still quite bold and powerful in flavour. Signature aromas include dark fruit, chocolate, liquorice, tobacco, as well as fresh herbs, mushrooms and spices with age.
Situated on the left bank of the Garonne River, to the west and south of the Bordeaux region, is Bordeaux's "Left Bank," further divided into the Graves (upstream of Bordeaux city) and the Médoc (downstream of Bordeaux city, on a peninsula between the Atlantic Ocean and Gironde Estuary). Within the Médoc, the Haut-Médoc sub-region is home to the four very famous Left Bank appellations of Pauillac (producing dense, firm wines with remarkable aging potential), Margaux, Saint-Julien and Saint-Estèphe, as well as the lesser known Listrac and Moulis. Here, some of the most prestigious estates of Bordeaux can be found, including four out of five of Bordeaux's Classified First Growths. While the proximity of the Atlantic Ocean results in high rainfall, the gravel soils characterising the Médoc provide excellent drainage and reflect the light, in order to allow the red grapes to ripen slowly. This is the perfect environment for Cabernet Sauvignon, which dominates in this area. The Left Bank Bordeaux Blend tends to be comprised, in order of importance, by Cabernet Sauvignon, Merlot, Cabernet Franc, Malbec and Petit Verdot. These wines tend to be bold and tannic, with remarkable ageing potential, although styles vary from one appellation to another. Signature aromas include dark fruit, cigar box, cedar, truffles, leather and spices with age.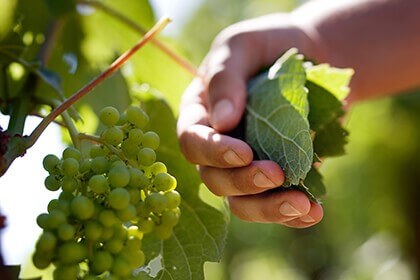 The Graves, named after its signature gravel soils, is known to produce red blends similar to those of Médoc, but is also the origin of some fantastic white wines made of Sauvignon Blanc and Sémillon. The Pessac-Léognan appellation, situated in the northern Graves, is home to some of the area's most prestigious châteaux, including Classified First Growth Château Haut-Brion. The appellations of Cerons, Sauternes and Barsac, situated in the southern half of the Graves, are specialised in the production of sweet dessert wines from botrytised grapes infected with "noble rot" (typically a blend of Sémillon, Sauvignon with small amounts of Muscadelle and Sauvignon Gris). The grapes are harvested in several passes and the wines aged in oak barriques between 18 and 36 months to produce wines with an intense golden colour, which gradually turns amber with age. These wines are characterised by luscious aromas of stone fruit, white flower blossoms and honeysuckle.
Finally the Entre-deux-Mers (meaning "Between Two Seas") region is situated between the Garonne and Dordogne Rivers, and is known for producing Entre-deux-Mers (AOC) classified dry white wines from a blend of Sauvignon Blanc, Sémillon and Muscadelle grapes. These wines are best when enjoyed young, pairing beautifully with fresh seafood from the nearby Atlantic Coast. The area also produces red wines in the Bordeaux generic appellation, as well as the appellation of Bordeaux Supérieur Rouge.
How to Serve and Enjoy Bordeaux Wines
The first step to fully enjoying a bottle of Bordeaux wine is to choose the correct time to open it. Many of Bordeaux's best are aged for a minimum of 18 months in new French oak barrels, which allows the wine's tannins to soften and its flavours to evolve a range of nuances. Nevertheless, the high levels of acidity and tannins characterising these red wines means that they are often quite harsh in their youth, revealing their full potential only after a few years to a few decades of ageing in the bottle. The red wines of Bordeaux also tend to show significant variation from one vintage to another ("the vintage effect"), so be sure to choose a vintage whose unique character matches your preferences. Bordeaux vintages also make for fantastic gift ideas for birthdays, anniversaries, weddings and more, as they mark a special year, a moment in time. When searching for old vintage Bordeaux, consider large format bottles (e.g. the 1.5 litre Magnum, or 5 litre Jeroboam), which tend to age even better than wines in standard bottles.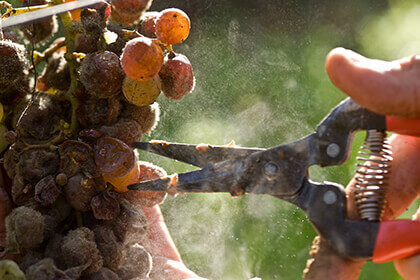 When investing in a Grand Cru Classé of Bordeaux, especially in an older vintage, it is important to make sure to buy the wine from a trusted source, with provenance and adequate storage guaranteed. The bottle should ideally be stored in a cool, dark place until it is opened. While the dry white wines of Bordeaux pair famously well with fresh seafood, the region's iconic Bordeaux Blends offer the perfect centrepiece for just about any food featuring meat cooked in a variety of forms: from the most indulgent roasted leg of lamb or fine filet of steak to the more humble bacon cheeseburger. The sweet wines of Sauternes and Barsac pair beautifully with the most pungent of cheeses, as well as most dessert dishes, to which they are known to add their own signature caramelised, honeyed touches.